Elevate Your IKEA with Our New Bemz Legs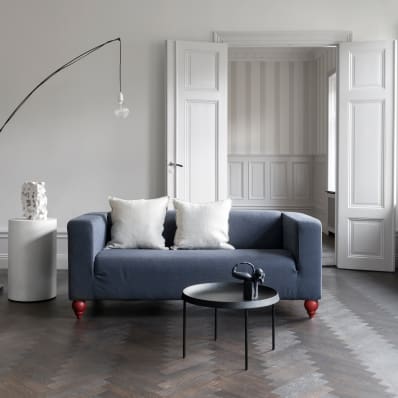 Legs are the fancy shoes of the furniture world, and we're ready to show ours off.
Introducing Apartment Therapy's new collaboration with a very cool company that I felt was perfect for our readers: Bemz. Bemz has become the premier place to get beautiful, washable slipcovers for IKEA sofas, armchairs, and chairs — all made to order in Europe. Now, Bemz and Apartment Therapy are introducing a special collection of replacement furniture legs to take the transformation and personalization to a new level.
I've been working for the past six months with our friends in Stockholm on this new concept, and now it's ready for its official debut! Meet my first collection of fancy legs: Terence, Winston, and Basil.
Introducing Maxwell Ryan x Bemz by Apartment Therapy
Terence is my big LOVE. Inspired by Terence Conran's Bibendum restaurant and all its Michelin Man design references, this bold, curvy leg is full of character and works well in any setting — contemporary or classic. Terence is available in two heights (7'' and 5.5'') and a variety of colors: a natural Scandinavian birch wood, Jet Black, Absolute White, Balzac Red, and an elegant Silver Grey. (Price: from $29)
Winston is a rounded furniture leg. (The inspiration behind the name? Give it your best guess.) It's turned for a timeless yet exaggerated English roll look with a hint of drama. Winston is available in a height of 5.5'' in a neutral palette of white and natural birch wood. (Price: $29)
Basil is the cutie pie of the collection. Only 4'' high, Basil has a rounded globe shape with a pointed tip. Its low-slung, floor-hugging silhouette is both playful and refined. The name references the domes of St. Basil's Cathedral, so we opted for a pop of color here: Basil is available in Balzac Red, Citron Yellow, and Silver Grey. (Price: $29)
(Image credit: Maxwell Ryan)
Inspiration
The first thing I always do when looking for inspiration is start surfing my favorite websites, trawling for images and adding them to a Pinterest board. Since many modern legs can be a bit boring, I went back to look for older legs to learn a little the language of the traditional, turned wood leg. I also thought that this older perspective would cross very nicely with IKEA design.
Then I began sketching, simplifying older designs, but also giving them a stronger gesture. My inspiration quickly developed into a fantasy: I was taking IKEA out of Sweden and introducing it to some dashing personalities from around Europe. This is how I expressed it to the team back at Bemz:
(Image credit: Sara Medina Lind)
"So travel with me as I introduce your Karlstad, Söderhamn and Klippan sofa to Terence, Winston and Basil, all representatives of great design traditions from England to Italy. Turn the sofa that everyone has into the sofa that no one has ever seen."
And there you have it. By the end of the process, we'd boiled it down to three final shapes, two heights and a lovely color palette. Please welcome my first collection and share back what you can do with it.
Launching into the World
The Maxwell Ryan x Bemz by Apartment Therapy collection launches to the world this week and will allow millions of IKEA fans to transform their furniture into something that no one will recognize is IKEA. It's now available exclusively on bemz.com. I'd love to hear which leg is your favorite, and how you'll use it in your home. Let me know in the comments below!
Photographer: Sara Medina Lind. Styling: Annaleena Leino (website: //annaleena.se/ Instagram: //annaleena.se/